Land Day, Tax Day, and Beyond!


Dear Supporter,

It's an exciting time for the US Campaign--our March Month of Action was a success, Tax Day is just around the corner, and we're beginning preparations for our 9th Annual National Conference


We finished out our March Month of Action with media and BDS action on Land Day, including a call for the Pixies not to whitewash Israeli apartheid and Ahava boycott actions across the United States. Now we're gearing up for actions on Tax Day, including plenty of events at a post office near you! And we've confirmed our venue for our upcoming National Conference--now it's up to you to confirm that your organization is in good standing with the US Campaign so that you can send voting delegates to the conference. 

Check out the rest of this week's edition of Occupation End Notes for information US Campaign media coverage, upcoming webcasts, member group activities, new blog posts, news, and more!

If you have a resource or an update you'd like to see included in Occupation End Notes, click here to email us. To support the important work of the US Campaign to End the Israeli Occupation, the largest and most diverse coalition of organizations and organizers working to challenge U.S. policy toward Israel/Palestine, click here. Your support makes this important work possible!

Want more news and updates about the work of the US Campaign and its member groups? Read unique content on our blog, keep up with the latest media coverage and press releases, follow us on Facebook and Twitter, and check out our YouTube and Podcast channels to get your occupation-ending fix between editions of Occupation End Notes.

In solidarity,

US Campaign National Office Staff

(US Campaign member groups protested Nordstrom's Ahava product line in Seattle on Land Day)

In This Edition

9th National Organizers Conference At UMKC


US Campaign in the News

US Campaign Blog

US Campaign Sponsors Ellen O'Grady Event


Member Groups in Action on Land Day

Member Groups Launch New Websites

Delegations to Israel/Palestine


Support Our Work:


Join the Olive
Branch Club:

---
* 9th Annual National Organizers' Conference at University of Missouri Kansas City, July 23-25
The US Campaign is excited to announce that our 9th Annual National Organizers' Conference will take place in the University Center of the University of Missouri, Kansas City, on July 23-25, 2010. Many thanks to US Campaign member group Citizens for Justice in the Middle East and to the Muslim Student Association at UMKC for securing this venue! US Campaign conferences give representatives of member groups that have paid their dues to the US Campaign the opportunity to set overall political direction and priorities for the coming year, review and evaluate the work of the US Campaign, and elect representatives to the Steering Committee. They also provide a forum for local and national groups and individuals to network and exchange resources with one another. To learn more about US Campaign conferences and read reports from past conferences, click here.

Has your organization paid membership dues to the US Campaign this year? Find out by clicking here.
---
* Death and Taxes: Organize to Challenge Military Aid to Israel on Tax Day

Benjamin Franklin once quipped: "In this world nothing can be said to be certain, except death and taxes." Unfortunately, in the case of U.S. military aid to Israel, the two are inextricably linked. The United States has promised Israel $30 billion in weapons from 2009-2018.  During the Bush Administration, Israel killed more than 3,000 innocent Palestinian civilians, often with U.S. weapons in violation of the Arms Export Control Act.


Take action on or around Tax Day--April 15--to educate fellow taxpayers how their taxes are being misused by Israel to commit human rights abuses against Palestinians.  Organize an event at your local post office, or host a Tax Day house party and invite your friends and neighbors over for a movie.  Sign up to get a Tax Day organizing kit and get more resources and ideas for action by clicking here.
---
* What's News? The US Campaign!
Have you seen all the great media coverage that the US Campaign has earned in the past month? Check out National Advocacy Director Josh Ruebner in the Christian Science Monitor, WBAI Radio, Common Dreams, and Ha'aretz; National Media Coordinator David Hosey interviewed by KPFK Radio; Steering Committee member Phyllis Bennis interviewed along with poet-activist Remi Kanazi on GRITtv; and coverage of the US Campaign's presence at protests of the AIPAC convention in Washington, DC. Keep track of the most recent coverage of the US Campaign by clicking here, and see how we're influencing the discourse by seeing the latest coverage of Israeli apartheid and the BDS movement.
---
* Benjamin Netanyahu's Nephew, Phyllis Bennis, Mustafa Barghouti, Helen Thomas, AIPAC, and the Presbyterian Church on the US Campaign Blog
Have you seen the latest voices, videos, and viewpoints on the US Campaign blog? See what Benjamin Netanyahu's nephew has to say about U.S. policy toward Israel/Palestine; learn about the latest BDS victory; read Mustafa Barghouti's blistering critique of Israeli apartheid in the Financial Times; find out what the Presbyterian Church USA is saying about military aid to Israel; read US Campaign Steering Committee member Phyllis Bennis' analysis of recent tensions between the U.S. and Israel; check out video of US Campaign National Advocacy Director Josh Ruebner and representatives of US Campaign member groups in action at the AIPAC convention; and hear what Helen Thomas has to say about Israel's nuclear weapons program. All this and more at the US Campaign blog.

---
* Member Groups, Member Groups, Everywhere!

In an effort to better help our coalition members network and for us to better gauge the coalition's regional diversity, we have put together a map with our more than 325 coalition members represented by state. Don't see your group listed? Click here to join the US Campaign. Member groups, now that we're well into 2010, it's time to renew membership dues! Click here to check if your group is in good standing with the US Campaign and find out how to pay dues.
Please welcome the following group to the coalition:

Buena Vista United Methodist Church - California
North Texas Boycott Divest and Sanction of Israel Campaign - Texas
---
* Tax Day Actions, Art Exhibits, Films, and More Events near You!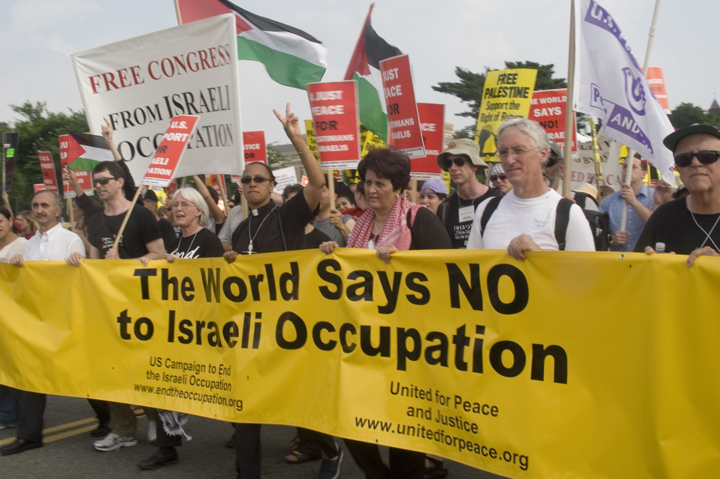 Find out about Tax Day actions, art presentations, film screenings, and more exciting events coming to a community near you on the US Campaign's online event calendar. Use the calendar to find out what's happening in your community to promote human rights and international law in U.S. policy toward Israel/Palestine. If you are planning an event--a vigil, a march, a teach-in, a film screening, an action, or anything else--you can publicize your event on our website by clicking here.
---
* US Campaign Sponsors Ellen O'Grady Event in Washington, DC

The US Campaign, along with Foreign Policy in Focus (a project of US Campaign member group Institute for Policy Studies) is sponsoring an event with artist and activist Ellen O'Grady at Busboys and Poets in Washington, DC, on April 10, from 6:00pm - 8:00pm. Using a creative mixture of art and activism, O'Grady will present the everyday stories of Palestinians with a discussion of her new book, Outside the Ark: An Artist's Journey in Occupied Palestine.
Ellen O'Grady is an artist and social justice activist with seven years' experience working in Palestine and Israel. She recently ended a nationwide tour with her book and is currently working on a visual essay, based on interviews with Palestinians and Israelis. Find out more and RSVP by clicking here.
---
* US Campaign Member Groups Take BDS Action on Land Day
US Campaign member groups across the United States took action on March 30 to commemorate the second annual Land Day international day of boycott, divestment, and sanctions (BDS) action. Palestinian Land Day commemorates Israel's March 30, 1976 killing of six Palestinian citizens of Israel who were nonviolently protesting for their rights to land.

Member groups in Seattle, New York, and Washington, DC demonstrated to get local stores to remove Ahava products from their shelves. CODEPINK got over 2,000 people to send email messages to Nordstrom's about their Ahava line. And supporters used social media to urge the rock band The Pixies not to whitewash apartheid by playing in Tel Aviv. Find out how you can get involved in BDS campaigns by clicking here.

---
* Watch Live Webcast of Chicago Hearing on U.S. Policy Toward Israel/Palestine
US Campaign member group AFSC Chicago is sponsoring a mock Congressional hearing on U.S. policy toward Israel/Palestine on April 18. The Chicago Hearing, which will be broadcast live on the event website, will bring together witnesses to tell seldom-heard stories from Israel-Palestine that raise critical questions about the effects of U.S. policies in the region. The Hearing highlights voices of those on the other end of the pipeline of U.S. aid to Israel. Israeli, Palestinian and American witnesses will testify to lives lost, freedoms denied and property destroyed by Israeli policies buttressed by U.S. aid and support. The witnesses will testify to the collateral effects of U.S. policies toward Israel: military and financial aid that totaled over $3 billion in 2009 as well as unconditional diplomatic support for Israel in the United Nations. Witnesses include US Campaign allies such as Cindy Corrie, Amer Shurrab, and Jeff Halper, and US Campaign National Advocacy Director Josh Ruebner will introduce the section on military aid. Find out more and watch live on April 18 from 1:15-5:30pm Central by clicking here.
---
* MECA Launches New Website and Clean Water for Palestine Petition

In response to a growing water crisis in Palestine that affects agriculture, industry, and the health of virtually every adult and child, US Campaign member group Middle East Children's Alliance (MECA) and a partner organization in Gaza have built a water purification and desalination unit for their school at the UN Boys' School in Bureij Refugee Camp, Gaza. The water crisis in the Gaza Strip has been building for decades but has reached a critical point. Climate change, population growth, and Israeli policies have limited the supply of water and contaminated the ground water that is available.
Help MECA combat this water crisis by signing a new petition, "Clean Water for Children in Palestine.

---
US Campaign member group Resource Center for Nonviolence, in cooperation with New Profile and the Refuser Solidarity Network, is sponsoring a California speaking tour entitled "On the Impact of Continued War on Israeli Society." The tour features Ofra Lyth, an Israeli Jew, and Ismail Kharoub, a Palestinian citizen of Israel, speaking about the ongoing impact on Israel and its citizens of the continuing Palestinian-Israeli conflict. Learn more and see scheduled events by clicking here.
---
* US Campaign Member Groups Launch New Websites
Three US Campaign member groups have launched new websites to raise awareness and promote BDS campaigns in their communities. The St. Louis Palestine Solidarity Committee, a project of US Campaign member group St. Louis Instead of War, has BDS info, pictures, video, and a speakers' bureau on their new website, which you can see by clicking here. The North Texas Boycott, Divest, and Sanction of Israel Campaign has articles, FAQs, and resources for BDS campaigns available, which you can see by clicking here. And Itisapartheid.org has a brand new site, and continues to accept submissions for the international Israeli Apartheid Video Contest. Check out one of the first video submissions to the contest by clicking here.

---
* Birthright Unplugged and Other Opportunities to Visit Israel/Palestine for Education and Solidarity


Birthright Unplugged is an education and movement building organization that offers two travel programs in Palestine and supports justice organizing work largely in the United States. The next Unplugged program will be July 9, 2010  - July 17, 2010 and includes 7 days of travel, 1 day of organizing workshops and some breaks. Please download the application at http://www.birthrightunplugged.org/unplugged/application and email it to info@birthrightunplugged.org it by April 20 2010.
Check out this and many more opportunities to visit Israel/Palestine, such as Green Olive Tours, Interfaith Peace-Builders delegations, Global Exchange Reality Tours, and more by clicking here.

---
* How You Can Sustain the US Campaign--Donate Today!


Has this edition of Occupation End Notes been useful to you? Would you like to continue to benefit from action alerts, online event posting, national organizing tours, resources for local organizers, national days of action, and grassroots advocacy trainings? Providing all of these resources for organizers isn't free. It takes staff time, printing costs, phone bills, and more.

If you, like thousands of other committed activists, find these resources vital for your organizing, make a tax-deductible donation to our ongoing work by donating online, donating office supplies and services, or commit to monthly giving by joining the Olive Branch Club.
Click

here

for more information, and join our Facebook Cause by clicking here.
---

Back to top

Occupation End Notes is the US Campaign bi-weekly newsletter, designed as a tool for activists. For this newsletter to be successful, we need your participation. Use us to promote events, give feedback on recent actions, recommend resources, or just learn from other activists in the movement. If you or your organization is planning an event or you have information for the Newsletter, please contact the US Campaign by emailing us here.

The US Campaign aims to change U.S. policies that sustain Israel's 42-year occupation of the Palestinian West Bank, Gaza Strip and East Jerusalem, and that deny equal rights for all.
---
ABOUT | TAKE ACTION | GET INVOLVED | STORE | DONATE | RESOURCES | MEDIA | SUBSCRIBE |UNSUBSCRIBE

US CAMPAIGN TO END THE ISRAELI OCCUPATION | PO BOX 21539 | WASHINGTON, DC 20009
202-332-0994 | USCAMPAIGN@ENDTHEOCCUPATION.ORG | WWW.ENDTHEOCCUPATION.ORG