Clarke's vision: 7 restaurants in LOVE Park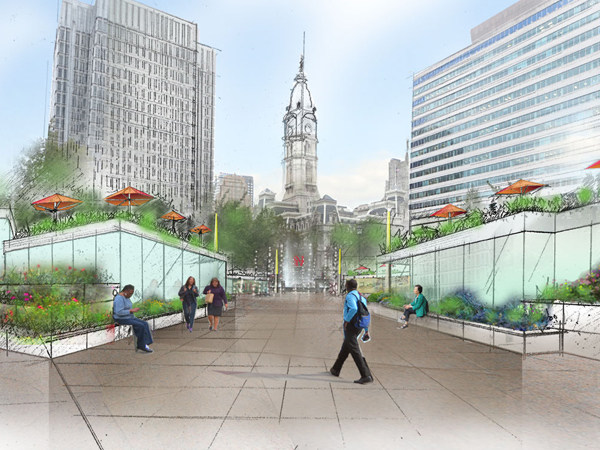 Philadelphia Inquirer
December 5, 2013
By: Troy Graham
Seven restaurants in LOVE Park? That was the vision that Philadelphia City Council President Darrell L. Clarke unfurled on Wednesday. He would pay for long-overdue upgrades to John F. Kennedy Plaza by leasing the rights to create 26,000 square feet of restaurant space in the iconic but aging park. Drawings Clarke's office commissioned show seven restaurant spaces - both open-air and enclosed - along all four sides of the park, along with a new stage for concerts and public events on the Arch Street side.

Read more...
---
Philadelphia Parks Alliance honors Mt. Airy-based developer

Newsworks
November 15, 2013
By Aaron Moselle

The Philadelphia Parks Alliance will honor Mt. Airy-based developer Ken Weinstein this weekend during its Annual Celebration event. Each year, the Alliance recognizes someone "who believes in the power of parks and recreation to transform neighborhoods, generate economic, physical and social benefits and create community cohesion," said Executive Director Lauren Bornfriend.
---
East Mt. Airy residents prevail as abandoned site becomes public park
Newsworks
October 24, 2013
By Aaron Moselle

Philadelphia now has six more acres of public parkland, thanks to an effort kick-started by residents nearly 20 years ago. The wild plot in East Mt. Airy, long used as a dumping site, has languished for decades. It was privately owned, but became public earlier this month after a deal brokered by the city's Department of Parks and Recreation. "It is with great pleasure and satisfaction that I share with you that the city's acquisition of the Wissahickon East parcel is complete. It is officially ours," Mark Focht, the department's first deputy commissioner, said in a statement sent out to nearby residents.
---
The green country town
Philadelphia Inquirer
October 4, 2013
By Michael DiBerardinis

Fishing in the Schuylkill, family fun runs in Hunting Park, hiking in the Pennypack, evening campfires, relaxing on a neighborhood park bench, bird-watching, biking along Cobbs Creek, tending a community garden, enjoying the shade of a street tree - these are just some of the fond experiences we all share thanks to our world-class Philadelphia parks and forests

Read more...
---
Touring the Schuylkill's historic gazebos with the Parks Alliance
PlanPhilly 
August 23, 2013
Christine Fisher

From the Philadelphia Museum of Art (PMA) upstream, the Schuylkill River's eastern bank has four gazebos dating back to the 1800s, originally built to capture views of the city's impressive water system. This week Philadelphia Parks Alliance Board President Bob Thomas led an evening walking tour of the four gazebos, two of which are well known and two of which are rarely visited. The tour started at the smaller of the two gazebos behind the art museum. Today that gazebo is a recreation of a wooden version originally built in the 1870s. Though the gazebo today is made out of steel, a steel that weathers specially was used to give it a more authentic appearance.
---
Illegal swimming in Philly's creeks often leads to tragedy
Daily News
July 16, 2013
Morgan Zalot

IT'S BEEN ALMOST 17 years since the raging waters of Pennypack Creek swept away Nicky Simonetti, 15, as he fought the current trying to save his best friend's life. But his mom, Beth Simonetti-Gallelli, still shudders at the memory of the day in 1996 when she lost her oldest child - along with his childhood friend, Chris Busse, who was like another son to her...But almost every summer, the life of another child - or, in rare cases, an adult - is claimed by the deceptively beautiful waters of Pennypack or another of Philadelphia's seven creeks. Though it's illegal to take a dip in city creeks, in the last two decades, according to a count by the Daily News, at least 16 people - mostly kids younger than 16 - have drowned in them. Dozens more have been injured in the winding, rocky, debris-filled waters. Since 2010, police have rescued 19 swimmers in trouble from creeks and rivers.
---
Philly's renewed urbanity
Philadelphia Inquirer
July 12, 2013
Harris Steinberg

There is a quiet revolution sweeping through Philadelphia. Just look at the bumper crop of new public spaces popping up across the city. From last year's breakaway standouts - the Porch at 30th Street and Sister Cities Café and garden - to this year's leafy-bowered pop-up beer garden across from the Kimmel Center, Philadelphians are being treated to a renewed form of urbanity. This is a new Philadelphia that fills in the rough edges lost to urban renewal and decades of disinvestment; a new Philadelphia born in the spaces we left for dead in the mad dash to modernize, revitalize, and remain relevant in the 20th century. If the postwar years were as much about saving the soul of our city as about accommodating the car, we are now blazingly conscious of what we gave up in urban refinement as we allowed the car to determine city form. Look no further than the stultifying impact of Interstate 95 on the Delaware waterfront; the speedways hewn from our gracious river drives; the destructive swath the Schuylkill Expressway cuts through West Fairmount Park; and the traffic-clogged conduit that the Ben Franklin Parkway had become. We nearly paved the precious urban patrimony left by generations of prudent, prescient, and practical forebears.
---
Planned upgrade of LOVE Park advances
Philadelphia Inquirer
July 12, 2013
Troy Graham

The Nutter administration finally has put the city-owned parking garage beneath John F. Kennedy Plaza up for sale, and has included a long-hoped-for remake of LOVE Park in the deal. The buyer of the deteriorating, 820-space garage would also serve as the developer and project manager of a $16.5 million overhaul of the park, which would be paid for by the city. The administration would retain approval over the design, which would have to follow rules laid out when the city posted the sale notice on its website Wednesday. The design must keep - and most likely upgrade - the most iconic features, including the fountain, the Fairmount Park Welcome Center with its "Googie-style" design, and Robert Indiana's tourist-magnet sculpture.
---
For whom the Dell tolls
Daily News
July 11, 2013
Jonathan Takiff

WITH HER crazy-big vocal range and deep catalog of hits, soul-pop wailer Chaka Khan gets to play all over the world, at everything from jazz festivals to symphony concerts. But when we described the Dell Music Center, where Khan will open the 2013 season tomorrow night, the 40-year music veteran concluded that it's a breed apart, one of a kind. "An outdoor amphitheater like the Hollywood Bowl, but dedicated to mostly black music like at the Apollo or Howard Theater? I've never come across that before," said the jet-lagged though extra-friendly talent in a phone interview...Over the past four years, about $7 million has been poured into renovations of the 78-year-old concert venue, built originally as the summer home for the Philadelphia Orchestra, detailed the city's answer to Amy Poehler, Parks and Rec deputy commissioner Susan Slawson.
---
Art Commission approves Rittenhouse Square, Zoo improvements
Plan Philly
June 5, 2013
JoAnn Greco

A long-overdue lighting project for Rittenhouse Square and the extension of the Philadelphia Zoo's revolutionary treetop animal trail were the two most exciting developments discussed at Wednesday's meeting of the Philadelphia Art Commission, but Commissioners pressed hardest for improvements to the other two, more mundane, applications presented. In introducing the lighting scheme, Betsy Hummel, president of Friends of Rittenhouse Square, said it was a continuation of other recently completed efforts — such as a retrofitting of existing lampposts and the installation of security cameras — aimed at combating vandalism and graffiti in the park. In addition, she said, planners hope to increase the feeling of safety and well-being for nighttime strollers. According to Mark Focht of the Parks and Recreation Commission, who also addressed the Commission, these programs — along with other projects like cleaning the tiles in the Square's fountain and some repaving — are part of an overall $1 million investment in the park by the department and the Friends. This year marks the 100th anniversary of the Square's redesign by Paul Cret, Focht observed.
---
West Phila. Partnership Leading The Way For Out-of-School Activity Programs
CBS Philadelphia
June 5, 2013
Pat Loeb

Philadelphia officials are hoping to expand a new model for providing after-school and summer activities for youth. It's not just that the city's Recreation Department budget has been cut to the bone, with just 1½ full-time staff member per recreation center. Deputy mayor Mike DiBerardinis says there's a new appreciation for how important it is to get kids into activities. "The data about out-of-school time is, if you can give kids high-quality and diverse opportunities, particularly in the middle school years, it's a big developmental tool. They feel more connected to the neighborhood, they're safer, they tend to do a little better in school."
---
Hits with Knits
Philadelphia Inquirer
May 31, 2013
Natalie Pompilio

The fiber arts never stuck with Melissa Maddonni Haims. Although her mother was a master knitter who even stitched suits, Haims never mastered a straight line. Until 2008. Haims' mother, dying of cancer, asked her daughter to finish a scarf she'd started making for her best friend. "She had about 10 days to live," remembers Haims, 41, a trained artist who was working in found-object mixed media at the time. "I finished the scarf in record time, about two days, and she said, 'OK, go into the living room, behind the yellow curtain, in the blue bag, I have another one for you.' "... Her latest installation has taken over Mount Pleasant mansion in Fairmount Park, a 250-year-old home that its caretakers describe as a "colonial masterpiece." The exhibition, "Spring Forward: Contemporary Fiber Art in Historic Homes," up until June 30, includes another yarn-based display at nearby Lemon Hill mansion by artist Rachel Blythe Udell. "The houses have craftsmanship, but it's 200-year-old craftsmanship," said Darren Fava, a manager with the city's Parks and Recreation Department, which administers the homes in partnership with the Philadelphia Museum of Art.
---
Phila. counterpart to Ellis Island will get recognition
Philadelphia Inquirer
Wednesday, May 29, 2013
Jennifer Lin

To look at Pier 53 today, a thin finger of tree-covered land stretching into the tidal waters of the Delaware River, you would never guess that this was the front door to America for a million immigrants from Europe. From 1873 to 1915, steamships for the American Line dropped off steerage passengers from places like Italy, Poland, and Germany. From there, newcomers sought out relatives in South Philadelphia, or boarded the Pennsylvania Railroad for coal and steel towns to the north and west. "It was our own little Ellis Island," said Scott Quitel, a principal of Applied Ecological Services, a land-use consulting firm in Conshohocken. A year from now, Pier 53 will have a new look that acknowledges its history while maintaining its natural contours. The Delaware River Waterfront Corp. (DWRC), a nonprofit steward of the city's master plan for developing the central Delaware waterfront, has marshaled $1.5 million in public and private grants to transform Pier 53 into a park.
---
Neighbors Kill Zip Line Idea for Fairmount Park
NewsWorks.org
May 22, 2013
Alaina Mabaso

On Tuesday, Bob Allen, Director of Property and Concessions Management for Philadelphia Parks and Rec, confirmed to NewsWorks that Parks and Rec has officially withdrawn its proposal for a treetop adventure course in Wissahickon Valley Park. According to an unsigned and undated statement that was released by Parks and Rec on Monday, while Parks and Rec maintains support for the educational and recreational value of the proposed course, it also "recognizes that there are significant differences in public opinion. Unwilling to promote a project that would "counter" the Parks and Rec mission to "unify neighborhoods," the statement went on, "Philadelphia Parks & Recreation will no longer pursue the development of a Treetop Adventure Course within Philadelphia." "We really feel that it was a good thing, and we regret it wasn't embraced by the community," Allen added to NewsWorks in a Tuesday phone interview.
---
Day care's old documents, other detritus dumped in Fairmount Park
Daily News
May 18, 2013
Solomon Leach

When Lauren Bornfriend went to West Fairmount Park in Parkside two weeks ago, she discovered piles of trash that had been dumped in the grass. "What's so upsetting about it is it a sends a message to the adults and certainly the children that they're not worthy of a park that is well-maintained and clean and safe," said Bornfriend, executive director of the Philadelphia Parks Alliance, an advocacy group for city parks. Short-dumping in city parks is nothing new. It's been a problem in Philadelphia for decades, despite being illegal. What was startling about what Bornfriend found, however, is that one of the piles contained trash from My Honey's Day Care Center, including documents with children's names, addresses and telephone numbers, according to photos Bornfriend took.
---
Changing Skyline: Finding common ground for skateboarders and picnickers
Philadelphia Inquirer
May 18, 2013
Inga Saffron

For far too long, it was assumed that skateboarding and public parks went together about as well as oil and water. A decade ago, that notion led to skaters' being driven from Philadelphia's LOVE Park, an internationally heralded mecca for the sport. Skaters were seen as an undesirable subculture and a danger to those pursuing more traditional park pleasures, like sitting on benches and eating lunch. So it is a measure of how far our ideas about urban space have evolved that the deluxe skate park opening next Wednesday on Schuylkill Banks, just south of the Waterworks, has been designed in an ecumenical spirit that welcomes skateboarders and passive users alike. Mixed in with the concrete ledges and curving banks at Paine's Park are shady nooks for spectators, a stage for concerts and movie nights, and a viewing platform for taking in the lush sweep of river. The assumption now is that everyone can - and should - get along.
---
Making parks in Philly safer
Philadelphia Inquirer - Opinion/Editorial
May 15, 2013
Matthew Perks

What do Philadelphians really want from their parks and recreation facilities? While new play equipment, benches, and ball fields are usually on the wish list at public hearings and budget negotiations, Philadelphians first and foremost want parks and recreation facilities that are "safe for me and my family." Every day, thousands of people enjoy our city's parks and facilities without incident, from Rittenhouse Square to the hidden paths of Pennypack Park. They form an integral part of the fabric that does so much to enrich the quality of urban life. Yet there have been a few highly publicized incidents in the recent past that garnered widespread attention and called into question whether our parks and recreation facilities are as safe as they can be...Today, the commission's public safety committee is releasing the results of this comprehensive inquiry in a new report, "Safety in Philadelphia Parks and Recreation Centers." Its findings and recommendations are now in the hands of the Nutter administration and City Council members.
Find the official report from Parks & Recreation here...
---
Planning to develop lower Schuylkill
Philadelphia Inquirer
May 10, 2013
Linda Loyd

The City of Philadelphia will release a master plan Thursday for six miles along the lower Schuylkill seen as ripe for job-generating industrial and commercial uses, new roads, more green space, and added bicycle and pedestrian trails. The blueprint envisions three districts along the river's banks, stretching from University City to Philadelphia International Airport. "The area accounts for 68 percent of the city's underutilized and vacant industrial land," said Alan Greenberger, deputy mayor for economic development. Refineries, utilities, freight rail lines, scrap yards, and remnants of industries that grew up on the rail lines that passed through the area all call it home. Greenberger and Philadelphia Industrial Development Corp. (PIDC) president John Grady will present the plan at 10 a.m. Thursday at Bartram's Garden, part of the Fairmount Park system, at 54th Street and Lindbergh Boulevard.
---
City to re-evaluate Treetop Adventure Course for Roxborough
Daily News
Monday, May 6, 2013
Morgan Zalot

AMID OPPOSITION from Roxborough residents and preservation groups, the city last week announced a delay in its plans to build a Treetop Adventure Course at the neighborhood's prized Wissahickon Valley Park. In a statement Thursday, the Department of Parks and Recreation said it would defer further public discussion and action around the proposed course, pending a re-evaluation. "The volume of misinformation currently in circulation, along with the Department's responsibility to safeguard valued community partners from misguided criticism, necessitates the additional review and analysis of this opportunity," the statement read.
---
DN Editorial: Boathouse decision wise as an owl
Daily News
Monday, May 6, 2013

TEMPLE University last week said that it will stop pursuing plans to build a new 23,000-square-foot boathouse on the east bank of the Schuylkill. The university ran into problems because those plans came in direct conflict with a city ordinance to protect open space. That law prohibits acquiring public land without offering a replacement parcel of parkland in return, which Temple didn't do. Of course, in a city with tens of thousands of parcels of vacant land, some might find it ironic to have a law designed to protect open space. But that law is critical to the long-term preservation of public park space - it prevents city leaders from selling off to the highest bidder land that belongs to the people of the city.
---
Temple nixes plans for new Schuylkill boathouse
Daily News
May 02, 2013
Morgan Zalot

AMID CONCERNS raised by open-land preservationists, Temple University has withdrawn a proposal to build a multimillion-dollar boathouse on the banks of the Schuylkill. The university initially announced plans in January to spend between $8 million and $12 million to erect a 23,000-square-foot boathouse on Fairmount Park land at the north end of Boathouse Row near the Strawberry Mansion Bridge. The plan was the first test of the Open Lands Protection ordinance, established in April 2011, which requires any institution using public land to provide or pay for an equivalent amount of green space to replace it...The Philadelphia Parks Alliance yesterday praised the commission for its success in working with Temple.
---
Temple cancels plan for Schuylkill boathouse
Philadelphia Inquirer
May 03, 2013
Robert Moran

Temple University has withdrawn its proposal to build a new boathouse along the Schuylkill after concerns were raised that the university was not providing replacement parkland as required by a city ordinance. Kenneth Lawrence Jr., a senior vice president at Temple, wrote in a letter Tuesday to Nancy Goldenberg, chair of the Parks and Recreation Commission, that the university was "not in a position to make a commitment" without further study of its options. At a January hearing, Temple was criticized for proposing to give the city $1.5 million to repair the East Park Canoe House, the university's former rowing home, instead of offering substitute green space for the now-withdrawn boathouse site near the Strawberry Mansion Bridge.
---
Some near Fairmount Park oppose treetop network
Philadelphia Inquirer
April 20, 2013
Melissa Dribben

It has worked well in other city parks, and some environmentalists say the benefits are likely to outweigh the costs. Nevertheless, the idea of a network of zip lines, ropes, and cables allowing visitors to explore the Fairmount Park treetops has fired up opponents, who are organizing to stop the city from considering it. Worried that it will damage vegetation, disrupt wildlife, and spoil the tranquillity of an urban oasis, residents formed the Alliance for Preservation of the Wissahickon on April 8 to dissuade the Philadelphia Department of Parks and Recreation from pursuing the plan.
---
City budget is a no Park-ing zone
Daily News Editorial
April 18, 2013

THE ACTUAL Value Initiative shouldn't be treated like the only item in Mayor Nutter's proposed $3.75 billion budget. It's time to give serious thought to the budget for the Philadelphia Parks and Recreation department. Nutter has pitched spending $51 million on parks, which is roughly how much the department is getting this year after a midyear boost of $2.7 million. It's not much more than the parks have gotten for decades. A recent City Controller report found that 40 percent of the recreation centers that they visited had expired or empty fire extinguishers. More than half had problems with water leaks.
---
Are Philly Parks Underfunded?
NBC 10
April 11, 2013
By Dan Stamm

With an aging system and years of cuts, does the Philadelphia's Parks and Recreation Department need more money? The non-profit advocacy group, Philly Parks Alliance, claims that Mayor Michael Nutter's proposed parks department budget for the fiscal year 2014 (starting July 1) falls about $5 million short of the money he promised and that council approved years earlier. "It's foolhardy and short-sighted not to give this department what it deserves," said Philly Parks Alliance Executive Director Lauren Bornfriend. City parks, which are used by everyone from kids to seniors, suffered budget cuts for years. The Parks Alliance estimates that in just the past five years the department has received $51.9 million less than it should have.
---
Hazards still plague numerous city rec centers, report says
Daily News
April 11, 2013
Jan Ransom

Leaking roofs, decades-old fire extinguishers, rotted walls, exposed wires and toilets that overflow into kitchens are just a sampling of the horrendous conditions that still plague some of the city's Parks and Recreation facilities, according to a report released Wednesday by City Controller Alan Butkovitz. A host of maintenance issues was first documented in 2004 and 2008 by the Controller's Office. Problems remain for many of the 28 sites that were selected for inspection in this year's review. Fifty percent of those facilities had fire hazards that included blocked or chained fire exits and electrical hazards such as exposed wires and water damage; 64 percent had tripping hazards; and 57 percent had damaged or malfunctioning equipment. With summer looming, Butkovitz said, these problems need to be fixed quickly.
---
Philly Bans Guns in City Parks
NBC 10
April 4, 2013
By Dan Stamm

Mayor Nutter signed a bill this week that bans guns at Philadelphia playgrounds and recreation centers. If you are caught with a gun in a Philly recreational park the bill, which amends the city's "Public Property" code, makes it that you can face a fine up to $2,000 if you bring a deadly weapon "in or around city-owned and occupied facilities." "There's no reason to have a firearm at a public playground," said bill sponsor Councilwoman Cindy Bush. Currently the city owns about 10,000 acres of open space ranging from athletic field to parks to pools to rec centers. Police records show that there have been more than 50 shootings at rec centers and playgrounds since 2010.
---
As council lines redrawn, a move to take charge early
Philadelphia Inquirer
April 03, 2013
By Troy Graham

After a once-a-decade redrawing of the city's 10 Council districts, tradition has held that members could begin providing services to voters in their new areas even before the changes go into effect. That's why Councilman Brian J. O'Neill didn't think his proposal to enshrine that tradition into Council rules last month was that big of a deal. "There's absolutely nothing changing that hasn't been going on for 30 years," said O'Neill, a councilman since 1980. "To me, it's a commonsense no-brainer." But others see a nakedly political maneuver from O'Neill, the lone Republican holding a district seat, who is about to absorb a big chunk of the Far Northeast's 56th Ward.
---
Bottled water isn't worth the environmental cost
Philadelphia Inquirer
April 3, 2013
Editorial
Independence National Historical Park should embrace the virtues of another priceless public asset with Philadelphia roots: tap water. Last week, the group Corporate Accountability International began urging prominent national parks to stop sales of bottled water within their boundaries on the grounds that "one national treasure (our parks) shouldn't be used to sell another (our water)." The National Park Service lets each of its parks decide whether to ban bottled water, and several have done so. While a few more parks wouldn't make much of a dent in the behemoth bottled-water industry, they could lead the way in encouraging the public to drink the water we already own.
---
Advocates want more money for Philly parks
NewsWorks
April 1, 2013
By Holly Otterbein
Philadelphia spends less on its parks and recreation department per capita than many other cities, according to the Philadelphia Parks Alliance. Lauren Bornfriend, the Parks Alliance's executive director, wants the city to devote $56 million to the department next fiscal year. Mayor Michael Nutter is proposing about $51.2 million. "If you look at a city like Minneapolis, and you look at how much their parks and recreation department spends per resident, they spend $200 a year. And we spend $64," Bornfriend said. "Cincinnati, Ohio, spends $156. Cleveland, Ohio, spends $102." The data come from the alliance's 2012 report "Parks by the Numbers."
---
City and state officials cut ribbon for new Shawmont Trail
NewsWorks
March 28, 2013
By Matthew Grady

Mark Focht, First Deputy Commissioner of Parks and Recreation, Mayor Michael Nutter, State Rep. Pam DeLissio, City Councilman Curtis Jones Jr. and Congressman Chaka Fattah cut the ribbon on Thursday for the new Shawmont Trail. (Matthew Grady/for NewsWorks)

Connecting city to suburb with safety in mind, officials from city, state, and federal government were present at a ribbon-cutting on Thursday morning for the recently-completed Shawmont Trail. The trail, a $1.4 million project led by Philadelphia Parks and Recreation in cooperation with the Streets Department, links Philadelphia and Montgomery County via a one-mile natural trail, used heavily for purposes of both commuting and recreation. Located primarily along Nixon Street in Shawmont, new features of the two year project include a 13-foot high retaining wall, fencing to protect private property, and new native species planting. Additional trees and shrubbery will soon make their way to the site to reduce storm water runoff.
---
City proposes treetop course in Wissahickon, but neighbors are wary
Philadelphia Daily News
March 28, 2013
By MORGAN ZALOT

JAMIE WYPER, who's lived in Roxborough for more than two decades, wants to make sure that if the city's Department of Parks and Recreation installs a treetop recreation course in the neighborhood's prized Wissahickon Valley Park, it's done right. That's why Wyper, 64, president of the Roxborough Conservancy, along with about 100 other area residents and stakeholders, packed an auditorium at the Schuylkill Center on Wednesday for a meeting about the proposed project. "It raises a series of questions about park use," Wyper said before the meeting. "There's a very fierce preservation-of-land movement in this area of Roxborough." That movement was vocal during the meeting as dozens of residents - and state Rep. Pamela DeLissio - grilled Robert Allen, the department's property and concessions management director, about parking for the course, crowd control, preserving the natural habitat and more.
---
Do trees fight crime in Philadelphia?
Grist
March 28, 2013
By Susie Cagle
We already know that having more trees around protects our health. Turns out those trees might also protect our wealth and safety, according to a new study from researchers at Temple University, published in the journal Landscape and Urban Planning. Controlling for some socioeconomic factors such as poverty, education, and density, the researchers examined crime and tree data and found that "the presence of grass, trees and shrubs is associated with lower crime rates in Philadelphia, particularly for robberies and assaults."
---
Could a Tree Top Adventure sports course become a reality in Wissahickon Valley Park?
Newsworks
March 22, 2013
By Alaina Mabaso

Bob Allen, Director of Property and Concessions Management for Philadelphia Parks and Recreation, has an idea to share with Wissahickon Valley Park users. "Imagine you're maybe 40 or 50 feet in the air in a massive oak tree, and you have this entirely different perception [of] and appreciation for the trees and the forest," he says. You see birds and squirrels in a whole new world, and get a new sense of the forest's topography as the land far below slopes to the Wissahickon River. It could become a reality: parks and rec staffers, including experts from the Urban Forestry and Ecosystem Management staffs, have been analyzing the forest conditions near Wigard Avenue, the proposed site of a new Tree Top Adventure Sports Program.
---
Philadelphia Lawmakers Authorize Mayor To Ban Guns in City Parks, Rec Centers
CBS Philly
March 21, 2013
By Mike Dunn

PHILADELPHIA (CBS) — Philadelphia City Council has given final approval to a measure that authorizes the mayor to ban guns in city parks and at recreation centers. But even the sponsor acknowledges the measure is likely to be challenged in court. The vote was 15-to-2 as Council authorized Mayor Nutter to create regulations for city parks and recreation centers that explicitly prohibit carrying firearms there even if the person has a legal "carry" permit.
---
Renovating Canoe House makes sense for rowers
Philadelphia Inquirer Editorial
March 21, 2013

The East Park Canoe House in Fairmount Park. Temple University officials have agreed to consider renovating the building. (CHARLES FOX / Staff Photographer)

Thanks to the city Commission on Parks and Recreation, Temple University may finally be on the right course to find a Schuylkill River boathouse for its crew team. The commission has asked the university to investigate renovating the East Park Canoe House, which first opened in 1914, and Temple has agreed to consider that possibility, but no promises have been made. Initially, Temple wanted to cram a new 23,000-square-foot boathouse between the crumbling Canoe House and the Strawberry Mansion Bridge, choking a thin strip of land between the river and Kelly Drive. That plan would take up precious river frontage as well as a picnic area and parking spaces used by other patrons of Fairmount Park.
---
Phila. Lawmakers Press For Gun Ban In City Parks, Rec Centers
CBS Philadelphia
March 11th, 2013
By Mike Dunn

PHILADELPHIA (CBS) — City Council and the Nutter administration may soon be embroiled in a new debate over guns: whether they have the right to ban legally registered firearms from the city's recreation centers and parklands. A City Council committee last week approved a measure proposed by Council president Darrell Clarke that calls on the mayor to create regulations that would ban outright any firearms in the parks or at recreation centers, even if the guns are legal.
---
Better security, more monitoring sought at Philly's recreation centers
Newsworks
March 10, 2013
By Tom MacDonald
In an effort to better monitor Philadelphia's parks and recreation facilities, a City Council committee has advanced a bill that would mandate an annual report on violent incidents. The report would detail the crimes that occur at each park and recreation facility. The department is working on improving security, including determining exactly who is using sports facilities, says Susan Slawson, first deputy commissioner of the recreation department.
---
Temple to review its plan on renovating Schuylkill canoe house
Philadelphia Inquirer
March 10, 2013
By Miriam Hill

The East Park Canoe House near the Strawberry Mansion Bridge remains shuttered. (MICHAEL S. WIRTZ / Inquirer Staff Photographer)

Temple University has agreed to take another look at renovating the dilapidated East Park Canoe House on the Schuylkill, putting on hold, until at least the end of April, plans to build a boathouse for its rowing team. The announcement, made public Friday in a letter from the Philadelphia Commission on Parks and Recreation to Mayor Nutter and City Council President Darrell L. Clarke, followed a January public meeting at which many people criticized Temple's proposal to build a 23,000-square-foot boathouse near the Strawberry Mansion Bridge. Many said the plan violated a city ordinance requiring that anyone seeking to build on park land offer replacement land of similar value to the city. The law, passed by City Council in 2011, aims to maintain the city's vast network of parks.
---
Parks and Recreation Commission hears testimony on reservoir project
PlanPhilly
February 28, 2013
By JoAnn Greco

As it did during its previous meeting, the Philadelphia Parks & Recreation Commission devoted the bulk of this Wednesday's meeting to a project that triggers a review to make sure it complies with the city's Open Lands Protection Ordinance. The meeting was held at Mander Recreation Center in Strawberry Mansion, not far from the site of the proposed project, which includes an adaptive reuse of a former water reservoir in the East Park of Fairmount Park.
---
Group Says Giving Fairmount Parkland To Conservation Center Must Be Equitable
CBS Philadelphia & KYW News Radio
February 28, 2013
By Mike DeNardo

PHILADELPHIA (CBS) — An advocate for Philadelphia's parks is supporting a planned conservation center in Fairmount Park — as long as free public access is guaranteed. The law requires city parkland can't be transferred for a restricted use without providing substitute land for open space. In the case of a bird and wildlife sanctuary planned near 33rd and Oxford Streets, the Philadelphia Parks Alliance is okay with a variance — as long as the conservation center has enough free public hours, according to Parks Alliance executive director Lauren Bornfriend. "Our concern is that the people of Philadelphia don't lose more parkland, particularly the people who live along 33rd Street and in the Strawberry Mansion neighborhood," she tells KYW Newsradio.
---
Strawberry Mansion residents air concerns over proposed conservation center
Daily News
February 27, 2013
VALERIE RUSS

RESIDENTS of Strawberry Mansion were polite, but concerned, at a hearing Wednesday night on a proposed bird and wildlife sanctuary nearby. The National Audubon Society and Outward Bound Philadelphia are collaborating to build the East Park Leadership and Conservation Center on more than 54 acres of city-owned land surrounded by Fairmount Park. Conceptual design plans call for a two-story, 17,000-square-foot building "nestled into the berm" at the edge of the reservoir there. The sanctuary would host students to help them gain a better understanding of science and nature. The Philadelphia Parks Alliance and others say that, on certain conditions, they will support the project's exemption from the city's Open Lands Protection Ordinance, which states that an organization can build on public open land only if it provides another equivalent open space.
---
Public hearing in Strawberry Mansion to address proposed conservation center
Philadelphia Inquirer
By VALERIE RUSS
February 27, 2013

A proposed conservation center that would serve as a bird and wildlife sanctuary, as well as help city schoolchildren gain a better understanding of science and nature sounds like a wonderful project with which few people could find fault. But the National Audubon Society and Outward Bound Philadelphia's proposed East Park Leadership and Conservation Center would be built on publicly owned land in Fairmount Park, and some city residents question whether the center would provide enough free public access.
"The Philadelphia Parks Alliance supports the Audubon Society and Outward Bound project, which we believe could be a significant value to the public - if certain conditions are met," Lauren Born Friend, executive director of the Parks Alliance, said Wednesday morning.
---
Philly Parks Seeing More Green:
A budget bump for Philadelphia's Parks and Recreation department will bring new jobs to the city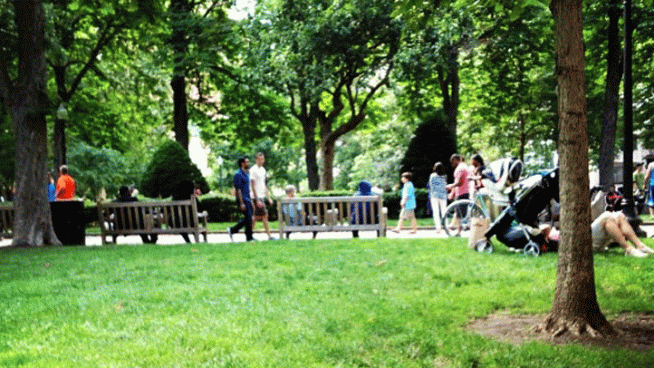 Summer in Rittenhouse source: Instagram via NBC10 Philadelphia
NBC10 Philadelphia
Wednesday, Feb 20, 2013
By Lauren DiSanto
The City of Philadelphia is making an investment in the future of the city's parks. The Parks and Recreation department is getting an infusion of cash, a $2.6 million dollar increase in their annual budget. "It's never happened before," says Parks and Recreation spokesman Alain Joinville, who expressed his excitement about what this money will be able to do. The budget bump will create new jobs in the city. Joinville estimates between 50-55 new hires will be made, predominately for skilled trades and ground maintenance. The new jobs will be posted on phila.gov.
---
City parks and recreation to hire with added funding
Philadelphia Inquirer
February 16, 2013
By Miriam Hill

The city's aging parks and recreation facilities are going to get a lot more attention starting this spring. Thanks to a $2.6 million increase in the department's budget, Parks and Recreation Commissioner Michael DiBerardinis plans to hire 63 full-time people, most of them in skilled trades and maintenance. It's the first such expansion in as long as any one in the department - which receives less funding than parks do in most big cities - can remember. "Parks have never gotten anything close to this in recent history," DiBerardinis said. The new hires will increase the number of staffers devoted to changing lightbulbs and doing other basic work crucial to enjoyment of parks and recreation centers, but also to the long-term health of those facilities.
---
Clarke To Unveil Plan To Wrap City Owned Property In Advertisements
CBS Philly
February 14, 2013
By Mike Dunn

PHILADELPHIA (CBS) - City Council President Darrell Clarke today introduces his plan to place advertising on city-owned buildings and vehicles as a way of boosting revenue without boosting taxes. Clarke's detailed plan to allows for city owned buildings like rec centers, and equipment like trash trucks, to run ads. He says a consulting firm hired by Council conservatively estimates that Philly could bring in $10 million a year: "We think it's very important, as I've said time after time, to create revenue opportunities for the city other than sticking our hands into the citizens' pockets and increasing taxes."
---
Updated: Clarke bill would allow advertising on municipal property
Plan Philly
February 13, 2013
By Jared Brey
Councilman Bobby Henon introduced a bill on behalf of Council President Darrell Clarke Thursday morning allowing for digital signs and advertisements to be installed on municipal property. The proposal, which Clarke initially floated at the end of 2011, is being framed as a way for the city to generate new sources of revenue as well as more effectively communicate public service messages and emergency information. The bill, which would amend the Planning and Zoning chapter of the Philadelphia Code, is "intended to balance the public interest in maintaining a safe and attractive City; the interests of businesses and other entities in promoting their products, services and ideas; and the interests of the City and other governmental bodies in communicating public service and emergency messages on a city-wide basis through an integrated network of signage on municipal property."
---
Engineering work soon to begin for 8-acre park atop I-95, Columbus Boulevard
Plan Philly
January 29, 2013
By Kellie Patrick Gates


The search is on for engineers and designers to figure out how to redevelop Penn's Landing and connect it to the city – largely with an eight-acre park that would fully cover I-95 and Columbus Boulevard between Walnut and Chestnut streets, as well as slope down to the water. A preliminary rendering of Penn's Landing Park extracted from the Master Plan for the Central Delaware, shows a sloping lawn, roughly the size of Rittenhouse Square, through which people could walk from Front Street down to the water's edge, or where they could linger to watch fireworks or concerts.
---
Changing Skyline: City must take broad view when considering boathouse proposal
Philadelphia Inquirer
January 25, 2013
By Inga Saffron, Inquirer Architecture Critic

MICHAEL S. WIRTZ / Staff Photographer
Temple's preferred boathouse site would occupy this half-acre picnic grove, near the shuttered East Park Canoe House, once the river's community boathouse.

The lush, sinuous banks of the Schuylkill between Boathouse Row and the Falls Bridge are one of Philadelphia's glory spots, the landscape equivalent of a great architectural ensemble. It's a treasure that deserves kid-glove care, and yet over the last two decades, the precious parkland has been a victim of almost serial abuse. Historic boathouses have been left to crumble. Second-rate newcomers have been plopped onto the scenic riverfront as casually as fast-food joints on a highway strip. Read more...
---
Everyone Loves Parks, But No One Wants to Pay For Them
Next City
January 21, 2013
By Ryan Briggs
Last November, the Philadelphia City Council approved a $2.67 million increase to funding for the Department of Parks and Recreation. The decision was roundly cheered by residents and the advocacy groups that had long pushed for the cash infusion.

"This has been unprecedented for many years, it's a excellent start. This will mean more boots on the ground doing maintenance," said Lauren Bornfriend, director of the Philadelphia Parks Alliance. The advocate credited council members for having the courage to commit higher-than-expected city revenues to parks and rec facilities. The funding increase, which will take effect in the second half of the upcoming fiscal year, will translate into 50 new employees.
---
Is parkland preservation still important to city?
Inquirer Editorial
January 18, 2013


As the first test of Philadelphia's new parkland preservation rules, Temple University's proposal to build a much-needed boathouse on the Schuylkill along Kelly Drive is proving to be a challenging one. The university's student rowers, having been turned out of the dilapidated East Park Canoe House several years ago, understandably are eager to see the plans move ahead. Temple envisions a 23,000-square-foot boathouse and an adjacent dock on a riverfront tract near Strawberry Mansion Bridge. The project's cost is in the range of $8 million to $12 million.
---
Park & Recreation Commission Hears Temple Boathouse Testimony
Plan Philly
Thursday, January 17, 2013
By JoAnn Greco
The Philadelphia Parks & Recreation Commission hosted a packed house last evening at Lloyd Hall, turning over its bimonthly meeting to the hearing of testimony regarding a proposed boathouse to be built by Temple University. The project (http://www.scribd.com/doc/113029885/Temple-University-Boat-house-proposal) is controversial because it involves building on Fairmount Park land near the Strawberry Mansion bridge on the Schulykill River, about a mile north of Boathouse Row. It's triggered the first test of the city's Open Lands Protection Ordinance, which opponents claim Temple is violating because it is not offering any substitute land in return. (Instead, it proposes a contribution of $1.5 million toward renovating the 1916 East Park Canoe House, which is near the building site, and says it will spend an equal sum for landscape and retaining wall improvements.)
---
Parks group: Temple boathouse proposal falls short


City Paper: Naked City Blog
Posted by Samantha Melamed
January 16th, 2013
Tonight, at 6 p.m. at Lloyd Hall on Boathouse Row, Philly's Parks and Recreation Commission will hear comment from the public on a proposal by Temple University to build it's own boathouse by the Schuylkill River near Kelly Drive. As we previously noted, the plan is controversial since it's the first test of a city law requiring anyone who wants to take city parkland to provide a similar parcel of land elsewhere as a substitute. Some say it doesn't bode well that the very first applicant for parkland is trying to bypass that provision, by offering funding instead to cover upgrades to the park.
---
Temple University boathouse proposal raises concerns for parks advocates
Philadelphia Inquirer Blog: Heard in the Hall
January 15, 2013

Temple University's hope of building a new boathouse on Kelly Drive is far from a sure thing. In anticipation of a public meeting Wednesday on the proposed structure, the Philadelphia Parks Alliance, an advocacy group, issued a statement that says, "While many are not opposed to Temple's boathouse per se, there is growing public concern that Temple's proposal does not meet the mandates of the new Protection Ordinance." The ordinance, signed by Mayor Nutter in April 2011, says that any changes such as the boathouse must mean there is "no net loss of park land." Temple wants to build a 23,000 square-foot boathouse near the Strawberry Mansion bridge, a plan that offers the first test of the new law.
---
Temple seeks new boathouse on Schuylkill
Philadelphia Inquirer
January 15, 2013
By Valerie Russ
SHOULD TEMPLE UNIVERSITY be allowed to build a boathouse on the Schuylkill without providing substitute land under the city's Open Lands Protection law? The city Parks and Recreation Commission wants to hear from residents about the issue at 6 p.m. Wednesday at Lloyd Hall, 1 Boathouse Row, off Kelly Drive. Temple plans a 23,000-square-foot boathouse on Fairmount Park land under the Strawberry Mansion Bridge. Temple's rowing crew had used the East Park Canoe House until 2008, when it was condemned as unsafe.
---