PFC Bradley Manning has been in jail awaiting trial for nearly 1,000 days for exposing war crimes, corruption, and widespread abuse. When he returns to court in Fort Meade, MD, for a pretrial hearing from February 26 to March 1, Judge Denise Lind will rule on the defense's motion to dismiss charges for lack of a speedy trial.
Supporter,

It's a good thing that tens of thousands of people, many young, braved the cold Sunday and marched around the White House demanding that Barack Obama turn against the Keystone Pipeline. The pipeline is already a disaster for Canada, and for the ultimate recipients of the oil, whether that's the U.S. or China, because of the price to the global environment. I wrote more here: Where is the Hope in Stopping the Planet's Destruction?


I'm heartened that World Can't Wait activists in Chicago put out the call and got people together to talk and struggle over what to do.  Here's an excerpt from a short report of their event Saturday, which had about 100 participants:
The February 16 Climate Crisis Conference, initiated by World Can't Wait Chicago and taken up by many other groups, was a sober and an exciting event. The opening presentation by Carl Wassilie, Yup'iaq Alaskan from Anchorage's Big Village Network, powerfully illustrated how life threatening the situation facing indigenous people in Alaska is. Storms are eroding their villages, their whole relationship to the natural environment – developed over centuries – is at peril, and animals they rely on are growing sick from toxins of unknown origin, a heart-breaking and infuriating situation. Carl reported that native peoples in Alaska are the most heavily regulated by the US government and yet they are being left to die. He drew an analogy to Jews in Nazi Germany, calling this is genocide.

Barney Bush, a member of the Shawnee and Cayuga tribes and president of Vinyard Indian Settlement in southeast Illinois, described the struggles of his peoples to stave off further destruction by mountain top removal and coal mining and prevent planned fracking, declaring that once a mountain is gone or a river destroyed, they are gone forever. That's why it must be stopped, no matter what it takes to do that. Dr. Robert Goldstein, an ordained Lutheran minister, renounced the legacy of Christianity in justifying empire and colonialism and argued for a radically different interpretation of Jesus' teachings, that we must be stewards of the earth. And Orpheus Reed, a reporter from Revolution newspaper, made the case that the very workings of capitalism require the exploitation of natural resources before a competitor can get to them and that only a socialist society can truly live according to sustainable principles of development. The morning plenaries gave everyone a lot to think about and discuss over lunch, which was served on site to encourage that exchange.
---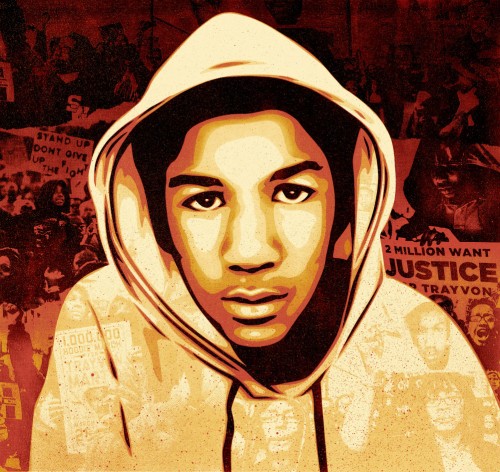 Image by renowned artist Shepard Fairey:
"I have followed Trayvon's case closely and I think any compassionate human being can relate to Trayvon as a brother or son and would want to see a thorough investigation into the killing of an unarmed person.  In my portrait I wanted to emphasize Trayvon's humanity as well as the public outcry for a just investigation into his death."
WE ARE ALL STILL TRAYVON!
From the Stop Mass Incarceration Network:

On February 26, we must mark the murder of Trayvon by wearing hoodies, by gathering in appropriate places and demonstrating our defiance and our determination to refuse to accept this mistreatment.  Gather coming out of school, gather in your neighborhoods, take pictures of yourself and your friends and spread them everywhere.

(From the call, "February 26, 2013 – Take to the Streets, Wear Hoodies and Show Your Outrage! - WE ARE ALL STILL TRAYVON!" issued by the Stop Mass Incarceration Network)

WHAT YOU CAN DO: 

1.) SPREAD THE CALL! Print out the complete call, and flyers, and post them everywhere.  Check out the video invitation from Carl Dix. Use the hashtags  #WeAreAllStillTrayvon and #JusticeForTrayvon and get the word out on Twitter, instagram, tumblr, and blogs. If you have a large following on social media, lend your voice to the effort--tweet, post, or make a youtube about the call for national resistance on February 26th!  There are some sample tweets and posts below.

Sample tweets:
•  ON FEB 26, Wherever you are, all across the nation, wear your hoodie, take the streets, show your outrage! #WeAreAllStillTrayvon
•  Being young, latin or black should not be a crime, we're under attack! Wear your hoodies, take to the streets on 2/26! #justicefortrayvon
•  It took us in the streets to get Zimmerman put on trial. ON 2/26, show that #WeAreAllStillTrayvon! http://www.youtu.be/jggerNJc3Qs
•  From #stopandfrisk to #trayvon, black & latino youth aren't criminals-the SYSTEM criminalizes black & latino youth! #weareallstilltrayvon

2). INVITE OTHERS TO ATTEND! Make sure you're attending to the event page on Facebook. Share the event on your Facebook wall, and promote it on your friend's and other popular fan pages! Click to attend the event, INVITE your entire list of friends, and urge them to attend--if we all do this, the presence of the event can exponentially grow and go viral on FB.  Forward this email to your contacts, or write a personalized email to friends and colleagues telling why you are stepping out, and why it's important to act on February 26th.
Continue reading...

---
Denouncing torture and Zero Dark Thirty at Hollywood and Highland in Los Angeles
It happened on The Hollywood Walk of Shame. World Can't Wait joined with ICUJP and other groups in a march and vigil that took over the intersection at Hollywood Blvd. and Highland Ave for about 45 minutes on Sunday, Feb 17. This is the famous scene where Oscars will be awarded in one week. Actor David Clennon spoke at a nearby church and then led the group of about 40 people, all ages, down to the Avenue of the Stars.

The group took over 4 corners of this famous intersection, passed out fliers denouncing the film's justificiation of torture and the degradation and horrible abuse of human beings as a feasible option in the US war of terror on the world. We met people who eagerly took up the fliers and thanked us for taking a public stand. Others wordlessly stared at the jumpsuits-many took pictures-some looked shocked or taken aback to see this display of renunciation in the heart of Oscar land... and others shouted their support of the movie and support for torture.