...added to coverage of anti-war protests last week in Washington:
Supporter,

World Can't Wait's focus on stopping the use of armed and surveillance drones by the U.S. is principally based on our opposition to the immorality of attacking vast populations, and linked to our mission to bring people to see that U.S. occupations are not legitimate.

Poisonous gas in the first "world war;" nukes in the second; napalm against the Vietnamese people; and white phosphorous in the Gulf War are technologies so heinous that at least millions of people recoiled, and removed their support from the imperialist belligerents.


Such is the case with the Reaper, Predator and Global Hawk drones produced by global multi-national munitions makers, and designed to terrorize whole populations. Murder by Drone is the strategy, and the debate rages.

Barack Obama is seeking "rules" for the use of drones (mainly for a Republican successor, of course), which really amounts to an agreement in the ruling circles of this country on how far permanent war on sovereign countries can go within the current global "war on terror." 

U.S. commentators are fighting for pro-U.S. public opinion in Pakistan, where the drone war is correctly seen as a big power invasion in land of a sovereign country. Three U.S. professors in The Atlantic challenged whether Pakistanis are really against the drones, quoting a Pew study in the most smug, servile way. They were answered by Murtaza Haider, a professor at Ryerson University in Toronto, who shows the flaws in how people were questioned in that study, and argues that support for the drone war in Pakistan is more like 1%.

Last week, PBS, in its NOVA series, broadcast "Rise of the Drones," introducing many more people to the argument of the President and the war-makers that drones are "effective."  Kevin Gostzola says the 'Rise of the Drones' Is Mostly a PBS Infomercial for the Military Defense Industry.

And the United Nations will investigate the "exponential rise" in U.S. drone strikes.  Maybe they should start with the report Living Under Drones from NYU and Stanford University.

Our challenge is to reach the people in this country with the basic illegitimacy of this direction in war-fighting. This is a call to join in:
APRIL DAYS of ACTION  – A Political Uprising to Stop Drone Spying & Killing
A mural on the Bread for All Catholic Worker bakery in Rochester NY, painted at the request of bakery manager Peg Gefell by Sue Shickler, Shawn Dunwoody and Kathy Smith. Photo by Peg Gefell.
The Network for Stopping Drone Spying and Warfare plans April Days of Action 2013 to generate a public uprising across the United States to stop drone spying and drone warfare.
We urge you to select one or more of the days in April listed below to organize actions in your community to focus on the institutions which are part of the massive army of drones in the U.S. war on the world.   People around the U.S. are urged to learn more, speak out, and act in visible protest of: 
April 4 – 6: Drone Manufacturers  Identify and protest drone manufacturing facilities, using demonstrations, teach-ins and other actions calling for an end to drone attacks and an end to the manufacture of weaponized and surveillance drones. 
►San Diego – April 4 – 7: protest at the plant of General Atomics, maker of the Predator and Reaper drones, the workhorses of drone killing.
April 16 - 18: Drone Research/Training  Identify colleges and universities in their regions doing drone research and/or training of drone pilots and to call for an end to research and training related to drone warfare. 
April 27 – 28: Drone Bases Protest at Air Force and National Guard bases which control the U.S. military drone program in their regions.
►April 26-28 protest at the Reaper drones based at Hancock Air Base near Syracuse, NY.
URGENT: Conference calls for April organizing are now underway. Please contact Joe Scarry as soon as possible so that you can participate. Email:jtscarry@yahoo.com.
Want to be part of the drones protest action that's happening in state after state? Connect with other members of No Drones Network! People in areas across the country are making big plans for the April Days of Action to Stop the Drones!

Please provide contact info (including your locale) and a volunteer coordinator will contact you. More info at nodronesnetwork.blogspot.com.
---
On worldcantwait.org:
Guantanamo: The Sound of a Closed Door Slamming
by Katie Taylor
The US' practice of holding people without charge or trial indefinitely has just become more definite. A problem which Obama promised to sort out as his first act as President has just become more intractable. The State Department office responsible for shuttering Guantánamo has just itself been shuttered.

Michael Moore's Repellent Defense of "Zero Dark Thirty"
Dave Clennon writes to Michael Moore:
Instead of being indicted, these torturers are presented as heroes, as brave and dedicated "detectives."  No one gives Maya or Dan the kind of scolding, which you envision Obama giving, off-screen.  Chastain's Maya, is presented as especially admirable, a feminist action hero.  She not only gets her man; she also muscles CIA male chauvinists out of the way, as she pushes ahead on "The Greatest Manhunt in History."  And we're supposed to empathize and cheer her on.

Sanctions: Weapons of Mass Death and Destruction
by Larry Everest
In short, tough sanctions are being promoted as a kinder, gentler alternative to war. And perhaps some people voted for Obama in part because they perceived him as less likely to start a war with Iran than Romney.

But let's get clear: Stiffening sanctions is a form of war against an entire population—a real weapon of mass destruction that is already imposing enormous suffering and death on the Iranian population. The U.S. is literally murdering babies and other vulnerable sections of the populations, but this fact is rarely mentioned by the cheerleaders of empire—aka the U.S. media—and there is no debate about it within the U.S. ruling class.

Obama Nominates Mr. Drone to be CIA Chief
by Paul Harris
Officially, the CIA still does not admit that its programme exists, but Brennan has been closely identified with promoting its use in the Obama administration. He has been dubbed "Mr Drone" in the media and has been the public face of the programme when it comes to arguing that its use is both legal and effective. In a speech last year at the Woodrow Wilson Center he said: "There is nothing in international law that bans the use of remotely piloted aircraft for this purpose or that prohibits us from using lethal force against our enemies outside of an active battlefield, at least when the country involved consents or is unable or unwilling to take action against the threat."

Thanks to Luther Norman, who wrote:
"Many are waking up to the fact that by not closing Guantanamo, allowing torture to continue unhampered and increasing drone strikes that Obama is no different than Bush with his policies. He's worse since he had to deceive to garner support... Obama is in place to continue the agenda and also keep destroying the rights of citizens in the US.  he has also passed the NDAA and is arming the police with more military technology for us against the citizenry.  Even if you do not know what the truth is, it must be starting to seem suspiciously illogical."
---
Women Now Officially Authorized to Bust Down Doors as Part of Illegitimate Occupations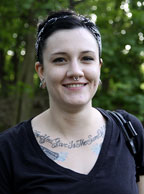 Robynn Murray, female vet profiled in the film Poster Girl
The news that the U.S. military plans to officially allow women to serve in many combat positions, pending some more review, is infuriating, but not unexpected. When "don't ask, don't tell" was suspended so that LGBT people were to be tolerated in the military, and not driven out, I felt it was only a matter of time before women would face a similar situation.

Just because the government will no longer legally bar women from combat level pay-grades, why would women – or anyone — want to be in the frontlines of illegitimate, immoral, unjust occupations which by definition involve abuse, killing and indefinite detention of the indigenous population? Why should anyone be fighting in such a force?

We know women have been in combat roles, even back to the Gulf War.  Women, throughout history, have proven to be brave and skillful fighters and leaders.  Just look at the Arab spring and revolutionary movements around the world.

Being in an imperialist army is different.  Sexual abuse within the U.S. military is well-known to the brass, tolerated, and even encouraged.  Veterans for Peace reports that rape within the military is twice that in the U.S. population.  Some say one out of three women in the military are raped, while sexual trauma and abuse is rampant and everywhere.

For a case study in what happened to Robynn Murray, a young woman put into combat in Iraq, see the award-winning film Poster Girl by Sarah Neeson.  It's showing now on HBO on Demand:

Robynn Murray was an all-American high-school cheerleader who became the poster girl for women in combat. But since returning from Iraq, she has fought an insidious foe: Post-Traumatic Stress Disorder (PTSD). This Oscar Nominated documentary short follows Robynn over the course of two years as she embarks on a journey of self-discovery and redemption through art and poetry.